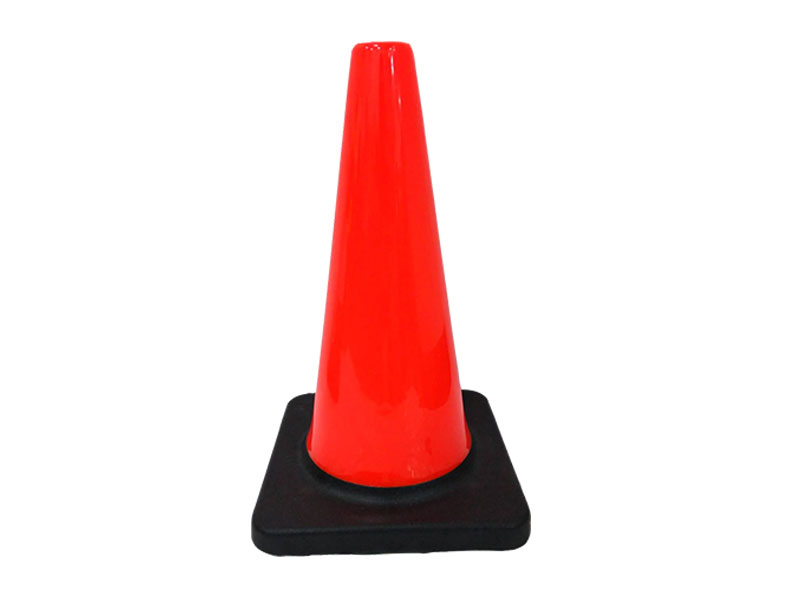 18" Weighted Traffic Cones
HCB-4514
---
Traffic cone, also known as road cone, safety cone, construction cone, parking cone, sports cone, delineation cone, channelizing cone.
Feature
• Injection-molded cone, two step progress
• Made of durable and recyclable PVC.
• High visibility PVC material
• Optional to fit with high reflective sleeves
• Withstand heavy impact and vehicle drive-overs
• High resistance to color fading.
• Durable extreme high and low temperatures.
• Optional to factory colored cones, custom colors
---
18" Weighted Traffic Cones
When it comes to road traffic safety equipment, HO Shing Traffic proudly presents its exceptional line of Weighted Traffic Cones. Designed to meet the highest standards of durability and visibility, our cones are an essential addition to various settings, offering reliable control and safety.
High-Quality Construction: Our Weighted Traffic Cones are crafted using a two-step injection molding process, ensuring sturdy construction that can withstand heavy impacts and vehicle drive-overs. Made from durable and recyclable PVC material, these cones are built to last, even in extreme high and low temperatures. The bright orange body and black base provide optimal visibility, reducing the risk of accidents and enhancing safety.
Enhanced Visibility: Safety is our priority, which is why our cones are manufactured using high visibility PVC material. For added visibility during low light conditions, our cones can be fitted with high reflective sleeves. This feature ensures that the cones remain visible and effective, contributing to accident prevention.
Versatile Applications: HO Shing Traffic's Weighted Traffic Cones are versatile and suitable for a wide range of environments. Whether it's construction sites, parking lots, schools, or garages, our cones effectively manage traffic and provide clear guidance. They are equally well-suited for indoor and outdoor settings, ensuring consistent safety across diverse locations.
Customization Options: Our cones come in a standard size of 45cm (18") with a weight of 1.4KG (3.1LB), and a base dimension of 27×27cm (10.6"×10.6"). The bright orange body and black base provide optimal visibility. Additionally, we offer the option of high reflective sleeves to further enhance visibility during nighttime or low-light conditions. Our cones can also be custom colored to meet specific branding or event needs.
Wide Range of Applications: Our traffic cones find applications beyond traditional road use. They are perfect for construction sites, ensuring clear demarcation of work areas. In parking lots, they help direct traffic flow efficiently. In schools, they ensure the safety of children and pedestrians. For indoor and outdoor events, such as sporting events, parties, and gatherings, our colored cones add a vibrant touch while maintaining safety standards.
Conclusion:
HO Shing Traffic's Weighted Traffic Cones are your reliable choice for ensuring safety and control in various settings. With their durable construction, high visibility, and customization options, these cones stand as a testament to our commitment to quality and safety. From construction sites to schools, from parking lots to events, our cones offer a reliable solution to traffic management and accident prevention. Experience the difference that HO Shing Traffic's Weighted Traffic Cones can bring to your safety efforts. Order now and make safety a priority.
Specification:
Material: PVC
Height: 45cm/18"
Weight: 1.4KG/3.1LB
Base: 27×27cm/10.6"×10.6"
Color: Bright orange body, black base
Reflective sheet: optional grades, brandsl
Pallet quantity: 928 pcs
*All weights and sizes are ±5% tolerance
Made in Taiwan
Application:
Our traffic cones are versatile and ideal for various settings. They can be used in parking lots, schools, garages, and interiors of buildings that require control but no vehicle traffic. Additionally, our colored cones are perfect for kids' sporting events, parties, and special occasions.
Construction sites
Parking lots
Schools
Garages
Indoors and outdoors
Sporting events
Parties and other events
Run over 6 times by 3.5tons truck. you can see high flexibility to rebound back upright quickly.